MAI takes part in conference on Islamophobia
Muslim Association of Ireland took part in a conference on Islamophobia in Ireland organised by the Immigration Council of Ireland.
The conference took place on 22nd Feb and speaking ahead of the event, Brian Killoran, Chief Executive of the Immigrant Council of Ireland said:
"The urgency of the work involved has been further highlighted by the fact that two mosques as well as private properties were subjected to graffiti and bricks through their windows while the research was underway.  
The recommendations are wide-ranging and will require change in almost every area of official policy not just for lawmakers, but for schools, employers, the Gardaí and many others including civil society organisations such as the Immigrant Council."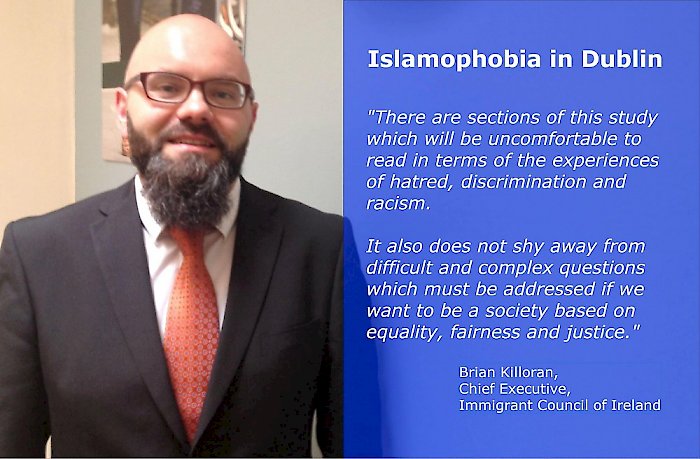 Speakers on the day included Scottish MP Tasmina Ahmed-Sheikh OBE, David J. McInerney from Garda, Racial & Intercultural Office, report author Dr James Carr of the University of Limerick, Professor Chris Allen as well as Hibah Aburwein on behalf of the MAI.
نظمت بلدية الهجرة بتاريخ 22_2_2016 برنامج 
حول الإسلاموفوبيا في دبلن
 تضمن البرنامج عرضاً للبحث الذي قدمه الدكتور { جيمس كارل} بدعم من بلدية الهجرة حول العنصرية في المجالات الآتية التعليم التوظيف وأماكن العمل الاعلام الأماكن العامة 
وقد استضافت بلدية الهجرة { تسامينا احمد} اول عضوة مسلمة في البرلمان الإسكتلندي وعدد من الأكاديميين والباحثين من بينهم الناشطة { هبة أبوروين} سكرتيرة الجمعية الاسلامية بدبلن و التي تحدثت عن دور المؤسسات التعليمة في تحجيم الإسلاموفوبيا ودور المؤسسات المدنية والإسلامية في التواصل مع المدارس والجامعات والأقلية المسلمة وفي ذات الوقت للتعرف على المشاكل والتحديات الموجودة وكيفية معالجتهاالجميل في البحث انه استقرائي وخلاصة مقابلات مع فئة متنوعة من المسلمين في إيرلندا ويعكس واقع حقيقي ومعاش للإطلاع على البحث يمكنكم ذلك من خلال الرابط التالي :